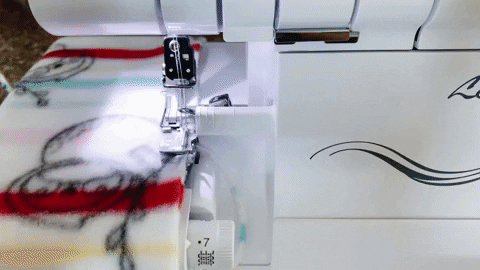 Hello crafters,
There is a huge sale going on at Joann's. Whenever there is a sale, I will be there. Plus, I needed fabric for my soon-to-be here baby boy!
I tried to make everything I can for the baby just to save some extra bucks while keeping everything under budget, but for something, I just can't make it myself, like diapers and etc. So, if you would like to help us out, we will be entirely grateful! Here is the link to my baby registry Mary's Baby Registry
Back to serging an anti pill fleece.

I bought this fleece with a 60% discount and I was thrilled. Went home, and decided to serge right away. But wait a minute, I had never sew or serge with fleece fabric before, what should I do? I just want to start sewing it, I don't want to cut out a piece of this fabric to test on it. I want to serge and go.
Loosen up the tension of the threads.
Keep differential feed at standard. Stitch length at 4.
I turned stitch width dial to 7.
It takes me about 15 minutes for me to finish serging the raw edges. I love how it turned out as I was trying to achieve that industrial look.
All finished! Thanks for following along. 💓